Bravo Battery - Bulldogs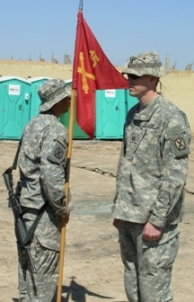 CPT Bright's first time in charge of
the formation as battery commander.
Battery Commander: CPT Aaron D. Bright
Battery First Sergeant: 1SG John M. Hunter
Bravo battery has one of the most unique misssions in the battalion. The primary mission of Bravo 2-15 is to train and ensure the successful transition of military control to the Iraqi people. We are working closely here in Iraq with the 1st Battalion, 4th Brigade, 6th Iraqi Army to ensure a successful transition of the country's security over to their forces.
On March 10, 2007, we had a change of command ceremony. CPT Visser, the outgoing commander took a position as an instructor at West Point and CPT Bright, formerly a staff member in S-3, took command of the unit.