Fallen Heroes
Although no sculptured marble should rise to their memory,
nor engraved stone bear record of their deeds,
yet will their remembrance be as lasting as the land they honored.
~Daniel Webster
This is a memorial page for those who have paid the ultimate sacrifice for the Regiment, the Army, and the United States of America.
CAPTAIN KEVIN C. LANDECK
January 30, 1981 - February 2, 2007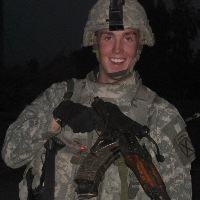 CPT Kevin C. Landeck, of Wheaton, IL, entered the Army in May 2004 as an Infantry Officer. He was commissioned as a Second Leiutenant after completing ROTC at Purdue University in 2004. He attended Infantry Officer Basic Course at Fort Benning, Georgia in 2005 and upon successful completion of his training was assigned to 2-14 Infantry Battalion, Fort Drum, New York.
In September of 2005 CPT Landeck was assigned to Delta Company, 2nd Battalion, 14th Infantry Regiment serving as a Heavy Weapon Platoon Leader.
In August 2006, he was deployed in support of Operation Iraqi Freedom. CPT Landeck served as the MiTT advisor for Bravo Battery, 2nd Battalion, 15th Field Artillery
CPT Landeck's awards and decorations include the Bronze Star Medal, the Purple Heart, the National Defense Service Medal, the Iraqi Campaign Medal, the Global War on Terrorism Service Medal, the Army Service Ribbon, the Overseas Service Ribbon, Parachutist Badge, Combat Infantryman Badge, and the Expert Infantryman Badge.
CPT Landeck is survived by his wife Bethany, and parents Richard and Vicki Landeck of Wheaton, IL.